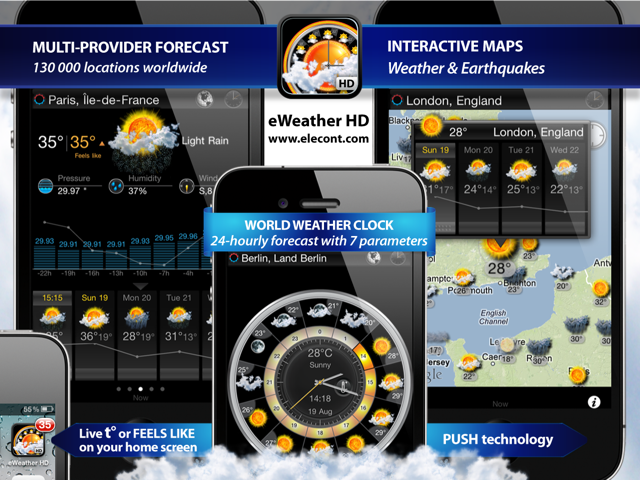 eWeather HD Meteo, Terremotos
Elecont Tempo (eWeather HD) é o software de tempo mais poderosos e precisos para plataformas móveis.
O eWeather HD é uma estação meteorológica completa, para seu telefone.
O eWeather HD produz uma Previsão meteorológica de 10 dias, com Barómetro, condições meteorológicas actuais.
Os dados meteorológicos são fornecidos pela WSI Corp., líder em soluções empresariais sobre meteorologia.
O aspecto mais interessante é o Barómetro. Quando o barómetro detecta mudanças de pressão, assinala-as a cor vermelha. Agora pode sempre saber qual a causa da dor de cabeça, se estiver relacionada com mudanças de pressão atmosférica.
Latest user reviews
Awesome Weather App!

A wonderful array of useful content presented quickly in eye-popping, graphical detail for both the hourly and 10-day forecast views. And to obtain additional details is within easy reach with simple intuitive gestures such as tapping the weather icon near the very center of the hourly weather clock to find wind speed, rain chances, real-feel temperatures by the hour. I think you will enjoy this App as much as I do. GET IT! You'll be glad you did.

Sep 2011, USA
Der schönste Wetter-APP. !!!!

Das ist sehr schöne Wetter App. ! Sehr gut detailliert, man hat alle Details über das Wetter die auch stimmt, funktioniert alles bestens, nur schade das die Unwetterwarnung funktioniert nicht, sonst ist das ein perfekte App.

Sep 2011, Germany
Great for carp fishing

Use this app in South East England and it is very good. Would suggest any fishermen get it

Sep 2011, UK
Very very aesthetic!
I've used a lot of weather apps; and this one is the one I always turn to. In fact, this is the BEST weather app you'll find. Found it after the weather channel went down hill. Very nice layout, with quick responses. It is not only attractive and packed with great data, but it is also as accurate as Environment Canada. Well worth every penny and then some! Purchase it. Use it. Love it. You won't be disappointed.
Sep 2011, Canada
METEO précise

De toutes les applications METEO que j'ai c'est la plus précise, et complète, a recommander

Sep 2011, France
---
More than 2000 user reviews with average rating 4.5 More reviews on the AppStore or Android Market...