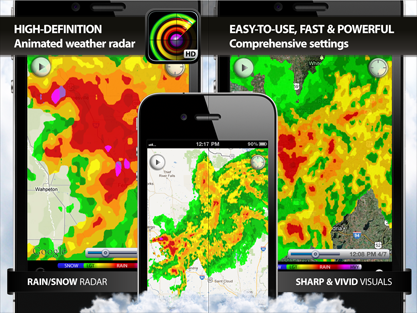 Radar MAX
High-quality weather radar for iPhone and iPad
A simple, fast, powerful and easy to use high-resolution NOAA weather radar for your iPhone and iPad. Radar MAX is recommended for those who are interested in weather, astronomy, aviation, hunting, fishing, travel, own or work on a farm or ranch, a private or vacation home, or work or play in a weather-sensitive environment or industry... the list goes on and on!
Radar MAX is a great application for iPhone and iPad that displays high-resolution weather radar around your current location, allowing you to quickly see what weather is coming your way. Radar MAX proprietary radar mosaics provide radar imagery at the highest resolution on different zoom levels.
The radars cannot determine precipitation type (such as rain or snow). Radar MAX uses special algorithms to delineate between rain and snow.
Radar MAX shows animated weather, so you can tell if rain is headed toward or away from you, and how fast.
A weather radar is used to locate precipitation, calculate its motion, estimate its type (rain, snow, hail, etc.), and forecast its future position and intensity. Radar MAX shows tornado, rain, snow, and hail clouds movement on zoomable maps around your location in real time.
Precipitation type is indicated by the color. Green color indicates lesser precipitation while the yellow color code indicates intense precipitations. The color code red is indicative of the most intense precipitations. Blue color indicates snow.
The map has the standard pinch/zoom capability which allows you to smoothly zoom and pan around the United States and see what the weather is like anywhere.
Radar MAX currently only shows weather in the United States, and only in the 50 states (except Alaska) - not Puerto Rico or other territories.
Features include:
* Snow/Rain
* High-resolution radar (NEXRAD LEVEL 3, base reflectivity)
* Adjustable radar image quality for Wi-Fi and cellular connections
* Full, animated radar from the NWS for the entire U.S.
* Canadian cities (near U.S./Canada Border only)
* play, pause animations at any zoom level
* fast forward and rewind using manual scrollbar
* zoom in and out, drag and scroll
* displays current position on the map
* multiple map styles - terrain, satellite or standard
* supports landscape mode on iPad
* saves and restores your last position
* manual refresh option
* faster even when on 3G or EDGE networks
* optimized for older phones (iPhone 3G/3GS)
Specifications:
* Snow/Ice/Rain Radar
* NEXRAD L3, N0R, base reflectivity, filtered data
* delayed 3-7 minutes due to nature of data transmission
* compatible with iPhone 3G/iPod second gen or higher or any iPad
* requires iOS 3.2 and higher
• Languages: English, Arabic, Armenian, Azerbaijani, Byelorussian, Chinese, Czech, Danish, Dutch, Finnish, French, Georgian, German, Greek, Hebrew, Hungarian, Italian, Japanese, Kazakh, Korean, Latvian, Lithuanian, Persian, Polish, Portuguese, Russian, Slovak, Spanish, Swedish, Turkish, Ukrainian