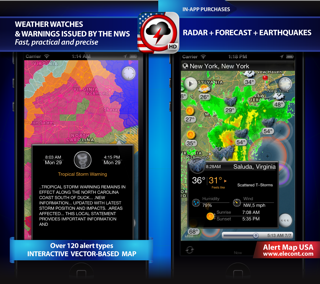 Weather Alert Map USA
All weather alerts in a single interactive display
Weather Alert Map USA for iPhone and iPad is the only app you need for the severe weather information. Get critical severe weather alerts for your location as soon as they are issued. The app provides timely, up-to-the-minute weather information and data using colorful vector-based maps. Stay ahead of severe weather wherever you are with the Weather Alert Map application !
Over the last few months, the weather is one of the hottest topics due to Hurricane Sandy, but lets face it, the weather is always a major focal point with everyday life. There isn't a day that goes by where someone doesn't ask me if it's going to rain or snow. With Alert Map, you will always have that information in your pocket because it shows the latest alerts, weather, radar and even earthquakes.
With Alert Map you will see all watches, warnings, and advisories issued by the National Weather Service. They cover just about anything you can think of including, air quality, avalanches, blizzards, floods, earthquakes, high winds, hurricanes, thunderstorms and so much more.
You will see these warnings color coded in the affected areas on the map. If you tap on it, you will get a summarized version of the advisory or warning, and you can tap it for more detailed information.
Here are some example images from the weekend and as recent as few hours ago dealing with Hurricane Sandy.
Weather Alert Map offers extensive high-definition radar, 10-day forecast and earthquake data via In-App Purchases.
Key features:
* Complete, vector-based;
* Advisories, watches, and warnings for: Severe Storms, Tornadoes, Wildfires, Earthquakes, Winter Weather, Extreme Temperatures, Tropical Storms, Hurricanes, Typhoons, Volcanoes, Tsunami, Wind, 911 Outages, Fog, Flooding, Civil Emergencies, Nuclear Power Plant Warnings, Law Enforcement Warnings, Local Emergencies, Child Abduction Emergencies, Avalanches, and more.
Radar IAP
Displays animated weather radar around your current location, allowing you to quickly see what weather is coming your way.
Key features:
• High resolution radar. Stunning and sharp images.
• Full, animated radar from the NWS for the entire U.S.
• Canadian cities (near U.S./Canada Border only)
Features include:
• play, pause animations at any zoom level
• adjustable radar image quality for Wi-Fi and cellular connections
Specifications:
• Snow/Ice/Rain Radar • NEXRAD, N0R, base reflectivity, filtered data
• delayed 4-8 minutes due to nature of data transmission
Weather IAP
Allows you to easily pan and zoom so you can get unmatched detail of weather in your neighborhood or half a world away.
Key Features:
• Provides current weather conditions and a weather forecast up to 10 days ahead for cities all over the world.
• Zoom in and find all the local weather stations surrounding your chosen location. Travel the world and find live weather conditions displayed for exotic locations. Switch between your favorite locations. These things help to make travel easy!
Features include:
• Interactive world weather map
• Current weather conditions and temperatures on top of the interactive maps
• Long-term 10-day weather forecast
• more than 130 000 world cities
• Scroll over top of maps to find weather around the world
• weather data by WSI Corp. and Foreca.com
Earthquakes IAP
Provides near realtime updates of the latest earthquakes across U.S., Worldwide.
Key Features:
• Generates a real-time map of earthquakes that have occurred over the past day in the world. The map includes the the strength of any earthquake with a magnitude over 1.0. • Uses data from multiple agencies worldwide, including the U.S. Geological Survey, and the European Mediterranean Seismological Centre.
Features include:
• Magnitude, time and date, location, and depth • Filtering by magnitude
Specifications:
• compatible with iPhone 3G/iPod second gen or higher or any iPad
• requires iOS 5.0 and higher